In 1951, Solomon Asch conducted an experiment, whereby how an individual would yield to the majority. In this experiment, eight male (yes, the experiment lacked different age groups, genders, cultures, etc, but the results are still interesting) college students participated in a "perceptual task." Unbeknownst to the single participant, the other seven male college students are actually confederates, or actors, meaning they are instructed to select an incorrect answer, for this experiment, the college students are given three lines to choose from that is closest in length to the one shown to them.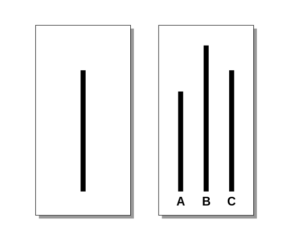 In over 99% of the experiments, the participant answered accurately, that is, he chose the correct line; however, when that participant was in the presence of the seven confederates, or actors, the participant, on average of a number of experiments, answered incorrectly 32.8% of the time. In a number of trials, at least once, a participant would answer incorrectly 75%, if in a room with actors giving the wrong answer.
There are many problems with this experiment. As I indicated earlier, there were only college males selected, however, this is still an interesting study to show the pressure of conformity.
There are instances in life whereby not going with the group in particular professional settings, academic settings and social settings, a risk versus reward calculus is employed and it may not be prudent based on each situation, but in a lot of situations, there isn't a risk versus reward calculation, conversely, there are a large number of individuals that will unreflectively go along with the majority.
This can lead to very dire outcomes for individuals, professional, academic and athletic groups as well as societies, cultures, and governments.